Vacation Bible School (VBS)
Every summer we are thrilled to have children from near and far join us for our week of Vacation Bible School. Children from from 3 years old through 12 are welcome! Younger children must be potty-trained. Groups rotate through the activities all morning. Whether they are having a ball in our outdoor game station, learning their lessons (sometimes in the belly of a whale!!), creating fun crafts, or singing about God, the kids and adults are always having a great time! The excitement builds all week and ends in our now-famous water day. Teens who have completed 6th grade and above are welcome to help as Junior Rangers. Friendships and great memories are forged that week as we all learn more about the glory of God.
Video produced by Art Alt.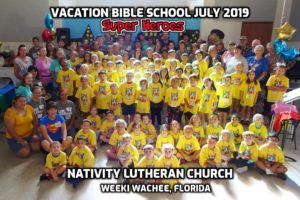 VBS for 2019 was July 15-19, 2019. For those who attended, we hope you had a good time. Once we determine dates for 2020, you will find information here.
For registration form in PDF format, please click here.
Once completed, email back to nativitylutheran63@gmail.com, mail to address on form or stop by the church during office hours (Mon-Friday 9am-2pm).